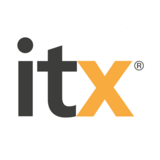 Product Designer
ITX Corp
Anywhere in the Americas
a month ago
ITX Corp is hiring a Product Designer (UX, UI, IxD) -Anywhere (remote)
As a rapidly growing company, ITX Corp. is always looking to add exceptional, passionate digital product designers, (UX, UI, IxD), to our team.
Who We Are
ITX designs, builds and continually evolves digital products. As designers, we work to solve challenging problems, translating complex concepts into simple, elegant solutions and converting mundane business applications into fun, easy-to-use tools that keep users coming back for more.
We believe casting a wide net is the best way to secure and retain the finest design talent. It's no surprise then that we've held a "remote first" philosophy for more than 20 years. Do your best work wherever you're most comfortable in the US, Canada or Latin America, or plug in at one of ITX's four U.S. offices – Rochester, NY; Portland, OR; Tulsa, OK; and Cincinnati, OH.
How We Work
ITX designers own their own work. We work alongside other successful designers, experts from across the organization, and client teams to understand user needs and business objectives, clarify requirements, and collaborate on strategy. From early-stage research to product launch, designers have plenty of room to flex our creative muscles.
ITX designers ask the difficult questions. We work hard to understand problems to be solved and drive clarity of purpose that yields delightful, elegant experiences. We aren't looking for "pixel pushers" here. We take ownership, and we deliver.
We believe in holistic and iterative design at ITX. With a mission of continuous improvement, we touch all aspects of the UX design process in a fast-paced, agile environment. Our daily design tasks consist of: UX research activities, Workflow definition, Wireframing, Visual Design, Prototyping, Usability Testing, and more. We collaborate regularly with and support our client partners and our dedicated product teams throughout the product lifecycle.
Culture is emphasized here. And thriving together is a big part of it. Our design teams are organized intentionally to facilitate collaboration and learning. We don't have art directors telling us what to do, but at the same time we enjoy ready access to our teammates' experience and expertise.
At design team meetings, we discuss ways to improve, grow, and innovate while also checking in on team and company initiatives. Weekly gatherings address more tactical work, and regular Teams channel chats handle everything in between, from daily inspiration and industry news to design critiques and feedback.
Continued learning, professional growth, and reaching for the next level are what we emphasize at ITX, paving the way to Mastery – an ITX aspirational value we pursue daily.
I Have What It Takes
4+ years of digital product design experience.
A powerful portfolio that you're eager and proud to share with us; a consistent and relevant collection of work that demonstrates your obvious visual design skills, as well as skills related to UX research, information architecture, interaction, UI, and workflows for complex products.
A belief in the power of simplicity and in design as a problem-solving discipline.
Expert skill with design tools such as Adobe Creative Suite, Sketch, and Invision.
Excellent oral and written communication, interpersonal, and presentation skills. English proficiency is required.
I Have Even More to Offer!
Working knowledge of the latest best practices, design principles, and patterns for digital products.
Documented evidence of participation and leadership within cross-functional teams.
Experience using data to inform and validate design decisions.
Why You Should Apply
Work on exciting products across a variety of industries, including: Payroll & Benefits, Healthcare, Financial Services, Non-Profit, Higher Education, Active Lifestyle, and so many more.
Collaborate with colleagues and clients all over the world to design and build products that have big impact and truly solve both user and business problems.
Opportunity to attend and become involved in ITX conferences and summits. Our ITXUX conference is award winning! Career growth and leadership opportunities exist at every level of the organization.
Make a difference in your community; ITX offers many opportunities to join teammates in ways that align with your interests and values. We've participated in hack-a-thons, 5K races, fundraising events and more.
Work with a diverse, inclusive team that feels like family and that cares about family. We believe in work-life balance at ITX.
Salary & Benefits
Competitive salary, commensurate with experience and market.
Enjoy the flexibility of working remote or from one of our offices, while still receiving all the standard benefits of an employee
Support of continuous learning that best fits your individualized needs, (training platform subscription, events, opportunities to contribute to the ITX Blog and more).
Please Note: Applicants without a portfolio included will not be considered.
If you're interested in this opportunity, please complete the application form, or send your application to hr@itx.com
Thank you!
We know that talented, hard-working people like you have choices about where they work. We are grateful that you have considered ITX as your next professional home. Our management team is committed to making the ITX journey an exciting, successful one for our clients and our team members. Together, we will continue to deliver technology solutions so that our clients – and our team – can move, touch, and inspire our world.